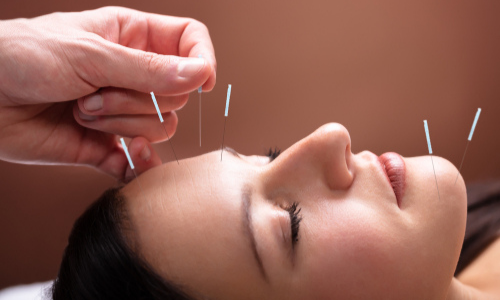 Acupuncture Can Relieve Your Jaw Pain
Jaw pain is more than just a minor annoyance. When your jaw is stiff and painful, it's difficult to chew or even hold a conversation. If you're tired of living with an aching jaw, acupuncture can relieve your pain naturally.
What Causes Jaw Pain?
Jaw pain has a variety of causes, including injuries, arthritis, misalignments, clenching, or grinding your teeth while you sleep. Pain in the muscles and joints in the jaw is often related to temporomandibular joint disorder (TMD). The disorder affects 5 to 12 percent of Americans and occurs twice as often in women, according to the National Institute of Dental and Craniofacial Research.
Symptoms of TMD include:
Popping or clicking sounds when you open or close your mouth
Jaw pain and stiffness
Tight jaw muscles
Temporary locking of the jaw
Ear pain
Headaches
Dizziness
Ringing in the ears
Stiff muscles in the upper back and neck
How Acupuncture Can Help You
Many painful conditions can occur due to imbalances in your body. Acupuncture restores your natural balance by targeting blockages of Qi, your body's life force. Qi travels throughout your body through a series of channels, known as meridians. After identifying the location of the blockages, your acupuncturist clears them by inserting needles into the corresponding meridians. Needles aren't always inserted in the head but may be placed anywhere along the meridian.
Acupuncture needles are hair-thin and don't cause pain. In fact, you may only notice a slight tingling sensation or a dull ache when the needles are inserted.
Treatments are ideal for jaw pain because they:
Moderate Pain Signals: Acupuncture treatments may alter the pain signals that travel from your nerves to your brain and may activate receptors in the brain responsible for diminishing pain. Acupuncture is an effective pain control option for TMD, according to a meta-analysis and systematic review published in Medicine in 2017.
Loosen Tight Muscles: Muscle tension, a common jaw pain symptom, makes opening and closing your mouth painful. Although muscle relaxants can be helpful in easing tension, these prescription drugs may cause drowsiness and other side effects. Acupuncture loosens your muscles and stops spasms without any unpleasant side effects.
Help Your Body Release Natural Painkillers: Acupuncture triggers the release of opioids and endorphins, natural substances produced by your body that reduce pain and improve your mood. More than 88 percent of TMD patients who received 8 to 10 weekly acupuncture treatments found the treatment highly beneficial in a research study published in the Journal of Acupuncture and Meridian Studies.
Reduces Stress: Stress can play a role in jaw pain and clenching or grinding your teeth. If you think that your jaw pain is caused or worsened by stress, you'll want to give your acupuncturist a call. Acupuncture reduces the production of cortisol, a key stress hormone. Treatments also prompt your body to produce more serotonin, a neurotransmitter that sends messages between your nerves and cells. Serotonin helps you relax, balances your moods, and may even improve insomnia.
Are you ready to try acupuncture? Give us a call to schedule your appointment.
Sources:
National Institute of Dental and Craniofacial Research: Prevalence of TMJD and Its Signs and Symptoms
NCBI: Medicine: Acupuncture Therapy in the Management of the Clinical Outcomes for Temporomandibular Disorders, 1/9/17
PubMed: Journal of Acupuncture and Meridian Studies: Acupuncture for Treating Temporomandibular Disorder: Retrospective Study on Safety and Efficacy, 12/10
Practical Pain Management: Acupuncture: New Approach for Temporomandibular Disorders, 3/15/16
Journal of Dentistry: The Efficacy of Acupuncture in the Treatment of Temporomandibular Joint Myofascial Pain: A Randomised Controlled Trial, 11/13/06